While choice in safety footwear styles has improved over the years, workers who spend any amount of time in refrigerated environments know that finding the appropriate safety footwear involves an assessment of the environments in which they spend most of their time. Finding the right solution typically involves some degree of compromise.
The depth of work shift exposure to extreme cold can vary — from a few minutes for delivery workers restocking walk-in coolers and freezers or restaurant workers getting the evening's ingredients to utility workers who experience prolonged exposure to moderately cold or freezing conditions during winter months. While employers might provide climate-appropriate clothing and PPE such as glove liners, workers must consider their safety footwear.
Making conscious safety choices
Today, many safety-related practices are taken for granted – like ensuring spills are promptly cleaned up in those walk-ins before they freeze and become slip hazards or that shelves are not overloaded, which can send heavy frozen cartons onto fragile feet below. Slip resistance in changing conditions is a must. Toe protection is also fundamental, and years ago, this was one area of frustration, as traditional steel-capped shoes and boots were heavy and inflexible. Workers, however, no longer must trade comfort for protection. Today's safety footwear options include composite safety toes constructed of fiberglass or even thinner material such as lightweight nano composite safety toes, both of which meet ASTM F2413-18 impact and compression test standards but are non-metallic in composition.
The range of safety footwear options now includes more than just traditional and often stiff, welt-constructed work boots (which do have their own rugged and stable benefits but are arguably better-suited for other environments and applications, such as heavy duty, outdoor-oriented jobs, high heat environments, or mining). Contemporary safety shoes benefit from advances in material construction that originated in the athletic footwear industry, such as cement-constructed styles featuring lightweight, flexible and cushioned midsoles much like one's favorite running shoes, but with abrasion-resistant and work-appropriate materials to protect against harsh working conditions.
While the flexibility and cushioned feel of common midsole materials – think traditional polyurethane or EVA or compression-molded EVA midsoles – may be sharply compromised in cold environments, more advanced midsole materials, such as expanded thermoplastic polyurethane (ETPU), are finding their way into industrial settings.  In addition to being lightweight and cushiony, ETPU tends to function well in a wide range of temperatures, which means shoes or boots remain somewhat flexible (depending on the length of exposure to cold) without feeling like bricks on your feet.
To ensure work shoes perform more like crampons and less like ice skates on the cold metal diamond plate flooring found in refrigerated environments, consumers should take the time to review products from various brands and manufacturers of safety footwear. Zero in on the products that meet your general needs (e.g., safety toe, over-the-ankle protection, insulation, etc.) and focus on those styles that meet the safety standards for slip resistance. Determine whether the outsole material has been tested in and found appropriate for refrigerated or frozen environments.
Lastly, until more research is conducted on high-tech, climate-control smart fabrics that provide thermo-regulation on demand, the footwear industry remains reliant upon microfiber-based insulation packed into the upper of one's shoes or boots. Activity heats the dead air space within the loft and helps provide warmth, so consider where you'll be spending most of your time and how active you'll be. The environment and your activity level will influence the amount of insulation needed to keep you working comfortably. Too much insulation in moderate climate conditions could lead to hot and sweaty feet. Not enough insulation may lead to cold toes and discomfort.
Additional considerations for footwear
A few additional features to consider when selecting safety footwear that will meet your needs and work environments:
Safety toe protection – If your profession requires you to spend a fair amount of time in a cooler or freezer, steel safety toes are likely not the best option. For these environments, consider composite or nanocomposite, non-metallic safety toes that meet the same impact and compression standards.
Midsoles and outsoles – Consider the material and how it reacts to cold.  Do the outsoles meet or exceed the ASTM F3445-21 slip resistance standard? Will the slip-resistant soles continue to perform when exposed to extended cold temperatures?
Other materials used in the upper, – Abrasion-resistant toe mudguards and eyelets. Does the manufacturer indicate if these have been tested in cold temps?
Insulation/Warmth – Does it have an appropriate level of insulation for your job function, based on the amount of time spent in moderate climate conditions versus in a refrigerator or freezer?
Following these guidelines puts you in a better position to make the appropriate safety footwear choice to suit your needs and keep you safe, even in the chilliest of settings.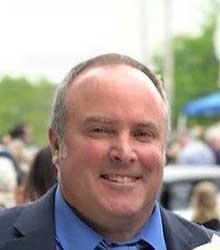 About the Author:
Bob McCarthy is Associate Director of Product Marketing for Shoes For Crews, LLC.  In his 32 years in the Footwear industry, he's had the opportunity to observe workers in various environments, conduct marketplace research, and collaborate with Safety and Risk Managers, in addition to managing product and process.
The post Working in the Cold? Don't Compromise Safety appeared first on Industry Today – Leader in Manufacturing & Industry News.