By Tahir Virk
When we think of resilience at a human level, it's ultimately about the survival of our species. In practical terms, this continuity is about finding an optimal balance between our humanistic demands with the supply of natural resources on our planet.
To build resilience and bounce forward, we need to capture what we've learned and incorporate it into our future models. Models that understand the value of reciprocity and stakeholder empathy. Models that see value in all resources, from waste to diversity of individuals. Models that have learned from previous mistakes and wisdom at their core, guiding autonomous behavior. For sustainable growth, we need systems that embrace the innate spirit and intelligence of human beings and ensure our species continues to thrive.
In the final part of this three-part series, we look at the pathway to sustainable growth by exploring some key components: growth; transformation, sustainability, and intelligence.
Growth
We're living in a time that is constantly transitioning to the next story. Currently, we're transitioning from a story that recognizes the quantitative value of growth but also the qualitative value of thriving in a healthy and sustainable way. A story where growth fueled by innovation drives infinite possibilities. A story where shared prosperity operating within the planetary resources and boundaries is becoming more mainstream.
The demand for this new growth narrative will ultimately be met from the supply of capitals, that is, build, financial, natural, social, and human. The use of these assets with their intrinsic value is reframed in a much more sustainable way. Our value chains will increasingly need to mirror this reframed interconnected relationship and operate in a more holistic way.
Across vaccine, food, clothing, energy, or any other value chain, there's huge untapped value as social businesses navigate this new narrative towards sustainable growth.
Transformation
Ideas are at the heart of transitioning to a new story. How we develop and ultimately design new ideas is key to the transformational impact that is needed with today's complex challenges.
Questioning the relevance of ideas is an integral part of the due diligence process. Solutions for the Sharing Economy, The Future of Work, funding models for social businesses, and so on require robust frameworks and tools to test their relevance. At their core, they incorporate sustainability principles such as life centered around regeneration, distribution, and systems thinking, while also recognizing the value of coopetition and viable business models.
Ideas without adoption merely remain ideas and so change, the opposite side of the same transformational coin, is equally important. For continuous change and the supporting structures and solutions to be sustainable, agility needs to be designed into their core DNA. For change to make an impact at scale, mass adoption is needed. As such an understanding of people's motivation, whether basic needs or a higher purpose, they also need to be part of the equation of change.
Sustainability
Future sustainable growth is about how we reimagine using materials from our planet in a sustainable way. It's also how we reimagine the future of people in the workforce and communities, coexisting with intelligent machines. Constantly adapting our thinking to be relevant will ultimately deepen our resilience to future economic, ecological, and social shocks.
In the Circular Economy everything has value, and nothing is wasted. Older generations who are living longer and richer lives, will find new value in repurposing their deep domain knowledge and expertise. It will be recycled into the intelligent systems of the future, a future that is guided with shared prosperity and freedom for all.
Intelligence
One of the core characteristics of intelligence is the ability to learn. As humans, we continue to create waste, environmental degradation, and inequalities despite having access to historical lessons.
Artificial Intelligence can be trained to become autonomous in accessing the historical wisdom of humanity and prevent such injustices happening in the future. It can also be trained to support just and ethical outcomes when addressing these complex challenges at speed and scale.
The underlying data that supports such intelligence is enriched with knowledge and skills and becomes the currency of value exchange. An exchange based upon a reciprocal and symbiotic relationship between shareholders and stakeholders. A relationship where one can't survive without the other.
Conclusion
Governments, business, and society need to find a pathway to remain relevant to the current and future stories. Growth, transformation, sustainability, and intelligence are some of the relevant components along the journey.
Procurement has historically played a key part of that journey by managing the supply markets for value creation through supplier relationship management. There's an opportunity for the procurement profession to understand the wider stakeholder landscape and become the stakeholder relationship mangers of the future. A future where they become custodians of the supply capitals and the champions of sustainable growth.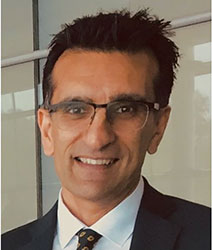 Tahir Virk, Director, Global Strategy & Innovation, Intelligent Spend Management, SAP, is a subject matter expert in supply chain, procurement and enabling technologies. With over 25 years of experience across multiple global organizations, he has held various roles from strategy to leadership and innovation to operations.
The post The Pathway To Sustainable Growth appeared first on Industry Today – Leader in Manufacturing & Industry News.