Uniforms play a big role in many industries, since around 50% of workers on the planet wear them according to a study lead by YouGov Galaxy. Uniforms embody a brand's identity and impact consumers' perceptions of professionalism, reliability and company values.
However, the environmental consequences of uniforms have largely been overlooked.
According to SKYPRO, a renowned Portuguese uniform supplier, a company with 250 employees consumes around 2 tonnes of uniforms within a lifespan of 12 to 18 months. With approximately 351,000 companies of similar size globally, this implies that a staggering 702,000 tonnes of uniforms are discarded each year.
The situation becomes even more alarming when we consider the industry estimates that around 90% of personal protective equipment and work clothes end up in landfills or are incinerated.
This impressive waste poses a serious challenge and highlights the need for companies to take responsibility.
Many organizations fail to recognize the importance of partnering with ethical and eco- friendly uniform providers and ignore brand protection and customer safety when disposing of uniforms with logos, which could pose a security risk if used by unauthorized individuals.
Such practices not only harm the environment but also undermine brand protection, consumer safety, and the overall sustainability goals of these organizations.
Shifting from linear to circular
In response to this urgent issue, players in the Uniform Industry have begun to raise their voices. One example is SKYPRO, a prominent Portuguese uniform and footwear solutions provider catering to renowned companies like Emirates, Qatar Airways, NetJets, Flair Airlines, TAP, Austrian Airlines, Royal Air Maroc, Groundforce, SNCB, Virgin Cruises, and many others.
SKYPRO's Sustainability Director, Ricardo Silva, highlights the need for the uniforms industry to recognize its role in the development of sustainable and circular products and services as well as in raising customer awareness on the subject.
As a result, SKYPRO is taking a public stance on the issue and emphasizing its commitment to implementing Circular Business Models that include practices as product-as-a-service, eco- design and design rethinking, take-back programs, repair, reuse, recycle, and proper disposal of clothes with logo.
"By adopting these practices, the useful life of textiles can be extended, offering alternatives to the prevailing 'fast-fashion' and discard mentality often associated with uniforms," says Silva.
He emphasizes that these sustainable approaches assist not only the environment but also businesses by lowering production, transportation, and storage expenses, as well as landfill fees. "By implementing environmentally friendly measures, companies can contribute to a greener future while reaping economic benefits."
The raise of eco-uniforms and viable sustainable materials
Another important issue highlighted by Silva is that companies are still hesitant to demand eco-friendly materials for uniforms due to higher prices and the perception of lower technical performance compared to conventional fabrics.
"To address this concern," Silva explains, "SKYPRO invested months of research to identify eco-friendly raw materials suitable for intensive use, focusing on their physical-mechanical performance and durability compared to those presently available in the market."
The tests encompassed requirements as touch and transparency validation, wrinkle resistance, anti-pilling properties, washing resistance and resistance to tearing, elongation and bursting.
Through this rigorous research, SKYPRO found that certain cellulosic fibers and recycled polyesters have the lowest environmental impact, accomplishing uniform requirements. "Our specialists carefully selected the best 1-2 materials for each type of garment, such as shirts, pants, and coats, and these fabrics are now ready for large-scale production," adds Silva.
Another key product that SKYPRO has created as part of its portfolio is the NextGen sustainable uniform collection. The Zero Waste principle served as a guide for the design of the pieces, which were conceived using eco-design techniques and raw materials that are bio-based, biodegradable, recycled, recyclable or sustainably sourced.
"Additionally, the production process will be carried out by carefully chosen producers committed to implementing environmentally responsible procedures," Silva says.
Environmental certification supported by team awareness
Recently, SKYPRO has achieved another milestone in its commitment to sustainability by obtaining the ISO 14001 Certification, a globally recognized standard for environmental management systems.
The biggest challenge for the company was being able to maintain impressive activity levels while simultaneously working to reduce its carbon footprint. For this to happen, the participation and awareness of the team was crucial. "Sustainability is a commitment that has to be part of people's mindsets, it is not an isolated corporate goal. If a company wants to be sustainable, all people must be committed from the beginning," Silva says.
SKYPRO's bold moves are a compelling call to action, triggering to our stakeholders the need to move forward into greener practices, the accomplishment of Zero Emissions targets, and United Nations Sustainability Goals. It is a wake-up call for organizations to reassess their practices and explore innovative solutions that prioritize both people and the planet.
About SKYPRO – https://corporate.wearskypro.com
SKYPRO is the company that is driving change in the uniforms industry.
Since 2004, SKYPRO's mission is to make end-to-end Uniform Management simple and effective, by delivering care, innovation and sustainable workwear solutions for every worker in every organization.
Also provide a unique Digital Transformation tool, mySKYPRO Portal, the only Uniform Management System with predictive algorithms for demand forecasting.
SKYPRO has also been named among the fastest growing companies by the Financial Times 1000 Europe. Our shoes were the first certified for aviation business according to ISO 20347:2012 standard and our products were recommended by Forbes, among several other media specialists.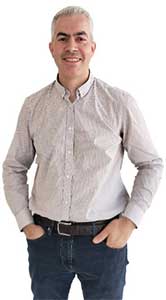 About Ricardo Silva, Ph. D.
Sustainability Director and Board Member – SKYPRO
Ricardo Silva has a degree, a master's and a doctor's degree in Chemistry and has been researching materials for footwear and textile for 18 years, with relevant work in the field of footwear comfort, the development of new vulcanized rubber materials for outsoles and fibres innovation.
For eight years belong to Research and Quality team at the Footwear Technological Center of Portugal, and his experience could be his greatest asset in helping airlines choose their footwear.
He joins Skypro in 2013, as Footwear Product Director, and since 2022 he leads Sustainability Department at SKYPRO, executing SKYPRO's Strategy for Uniform Sustainability and Circularity. The main challenge of the department is to deliver innovative solutions for sustainable materials, uniform reuse, recycling, and new upcycled products on a pathway toward a circular model for textiles, footwear, and leather goods.
The post The Discarded Uniform Dilemma appeared first on Industry Today – Leader in Manufacturing & Industry News.