Santa Clara, California — Synkrato, the next-gen logistics platform with digital twin, AI-driven logistics, mobility, and digital labeling solutions, announced today that its warehouse digital twin solution was named Overall SupplyTech Innovation of the Year by Tech Breakthrough, an independent market intelligence organization that evaluates and recognizes standout technology in the supply chain space.
Synkrato was awarded for its advanced warehouse digital twin solution powered by artificial intelligence. With constant material movement in the warehouse, the living Synkrato Digital Twin integrates with any system, constantly ingesting data from multiple resources to create a real-time 3D representation of a warehouse. Synkrato Digital Twin allows companies to perform analytics at scale, make predictions, simulate scenarios to optimize slotting, and proactively recommend optimal picking paths, putaway locations, and workforce allocation using real-time data and artificial intelligence.
"We are thrilled to accept this award that recognizes our efforts in helping warehouses become efficient, resilient, and scalable," said Amin Sikander, Synkrato's president and co-founder. He continued, "Synkrato leverages an industrial metaverse and artificial intelligence to help solve complex challenges and efficiently orchestrate warehouse operations, run simulations, and increase labor productivity. Our digital twin enables machines and humans to collaborate seamlessly, bridging the cyber-human gap critical to building next-gen logistics operations."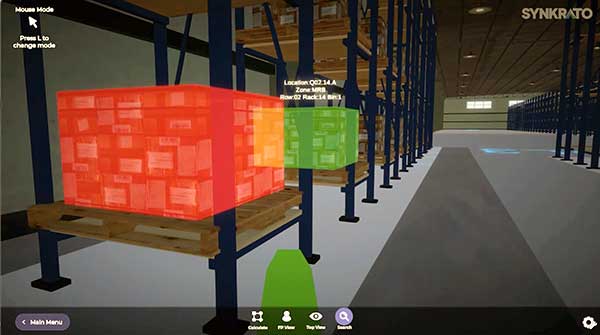 The SupplyTech Breakthrough awards program recognizes supply chain solutions, services, and companies that stand out from the crowd and revolutionize the supply chain and logistics industry. This year the program received more than 1,400 nominations from companies and startups around the world, 200 more nominations than the previous year. The winners were selected based on innovation, value, impact, ease of use, and functionality they bring into the supply chain and logistics space.
This award is Synkrato's second since its launch in early 2022. Synkrato Digital Twin was also named Product of the Year by Modern Handling Product News and was a finalist for the Innovation Award by MHI at ProMat 2023.
The complete list of SupplyTech Breakthrough winners can be found at https://supplytechbreakthrough.com/2023-winners/.
Synkrato – https://synkrato.com
Synkrato is a next-generation warehouse logistics platform that harnesses the power of artificial intelligence, augmented reality, and mobility to bridge the gap between the physical and digital worlds.  Synkrato's team has provided leading warehouse management solutions to Fortune-100 organizations for more than 15 years resulting in the successful management of more than one-billion dollars in inventory for its clients.
SupplyTech Breakthrough – https://supplytechbreakthrough.com/
A leading global provider of market intelligence and recognition platforms for technology innovation and leadership devoted to honoring innovation and market disruption in supply chain & logistics technologies, services, companies, and products worldwide. The annual SupplyTech Breakthrough Awards provide public recognition for the achievements of SupplyTech companies and products in categories including Inventory Management, Supply Chain Visibility, Transportation Management, Material Handling, IoT and Robotics, and more.
PRESS  CONTACT
Marta Call
[email protected]
LinkedIn: Synkrato
The post Synkrato Warehouse Digital Twin Receives a New Award appeared first on Industry Today – Leader in Manufacturing & Industry News.