By Guy Grainger, Global Head of Sustainable Services & ESG, JLL
As corporates eye their upcoming 2030 sustainability targets and re-assess their post-Covid workplace strategy, focus is sharpening on low carbon buildings.  
Energy efficient, electrified space powered by clean energy is in growing demand, not only because it's resilient to changing regulation but it's also an attractive proposition to employees and meets near-term sustainability targets. 
Supply side: Gap for low carbon workplaces 
Research from JLL shows that demand for high quality, low carbon workspace is set to outstrip supply by 75%, across major U.S. markets by 2030. This equates to a projected shortage of 57 million s.f. 
Supply and demand dynamics vary significantly between cities depending on factors such as major industry presence, corporate space requirements and property features of existing stock. Washington, D.C., for example, has a higher imbalance due to the large presence of government agencies with stringent sustainability targets. Combined with the recent decrease in development activity, the resulting demand for high-quality, low carbon space is set to be 12 times higher than supply.  
The Chicago market is heavily undersupplied due to inefficient existing stock, an especially constrained development pipeline and the lack of available clean energy. Meanwhile, New York is dominated by finance and professional services firms with ambitious targets of their own. Across the leased footprint of the top 100 occupiers in the city, 72% of upcoming requirements are tied to a carbon commitment this decade, amounting to 23.3 million s.f. of future demand. This compares to a shortage in the current development pipeline which is set to deliver only 8.1 million s.f. of potentially suitable space between now and 2030.  

Across six major U.S. markets, only about 43% of existing Class A office stock will meet demand, suggesting the rental premium for this space should increase. JLL is seeing evidence of this in advanced European markets where low carbon offices are beating historical rental highs this year, despite reduced transactional activity. 
Demand side: carbon measurement, not certification 
Many corporate occupiers are reassessing their office footprint with sustainability credentials, along with hybrid working and amenities. Decarbonizing their leased footprints are easier wins compared to tackling Scope 3 emissions across their supply chains.  
On average, every three out of four new lease requirements for the top 100 office occupiers in major U.S. markets will be tied to a carbon commitment between 2023 and 2030, according to JLL. 
Green certifications remain popular among investors and occupiers as a mark of sustainable buildings. However, most only focus on the design and construction of a building. When it comes to a building's emissions, its entire lifecycle must be considered – not only how it is built but also how it is used.  
As a result, today's sustainability-focused corporates are becoming increasingly diligent in looking at building performance, seeking real information on energy efficiency, electrification and clean energy procurement – the crucial elements of low carbon spaces.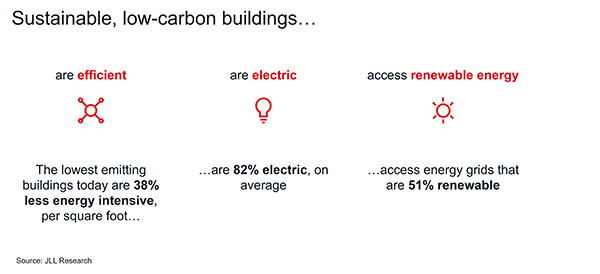 Incoming regulation 
Occupier demand for low carbon space will be the biggest demand driver but city regulations are also disrupting the landscape.  
Currently, there are 48 benchmarking policies and 11 building performance standards in place across the U.S. By 2024, there will be over 35 jurisdictions with building performance standards, showing the shift from measurement to management. 
If every premium office building in the study were to face New York's 2030 Local Law 97 emissions limit, only 25% would comply. Only 36% would comply with Boston's 2030 limit and only 43% would comply with Denver's 2030 energy efficiency requirement, according to JLL research.
Taking action 
The supply-demand gap makes the commercial case for investment in decarbonizing buildings. Owners that take the necessary action in a timely manner can enjoy financial benefits through higher rents, cheaper debt and attracting high quality tenants.
At the same time, the risk of inaction is growing, whether the migration of tenant demand or the cost of increased regulation diminishing net operating income.  
Partnership models through green leases and other forms of collaboration are also a growing area. The supply-demand imbalance for low carbon space will force owners and occupiers to collaborate on reducing emissions from the buildings they use – and share both the costs and benefits.  
As the office sector feels both the pressure of a cyclical downturn and the impact of hybrid work on lease renewals, rolling out effective decarbonization plans offers building owners a real opportunity to stay ahead of the curve and keep buildings in their prime.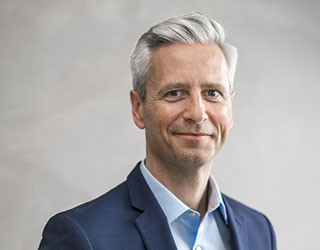 Guy leads JLL's Strategy globally to decarbonize the built environment and create positive social impact through sustainability services & products, which reduce harmful emissions in buildings and improve biodiversity and equality.
The post Rising Demand for Low Carbon Space Will Outstrip Supply appeared first on Industry Today – Leader in Manufacturing & Industry News.