Summary
Truckload performance in the United States was stronger at this time in 2021, but 2023 is far exceeding on-time performance in 2022 and is close behind the 2021 rates.
Truckload performance in Europe has stayed consistent at over 80% for the past 3 years. 
Rail performance has struggled over the past couple of years. At its worst, 2/3 of all loads were delivered late. This has continually improved, and the market is now at a 60% on-time rate.
On-Time Performance- Full Truckload
United States
Month over month, on-time performance remains stable with a less than 1% change between March and April. While 2021 was a stronger year in terms on on-time performance so far, 2023 is trending substantially better than this time in 2022. There is a 3% improvement between April 2022 and April 2023.
Europe
Like the United States, 2021 has mostly trended above both 2022 and 2023. While on-time performance has been lower in 2022 and 2023, the variance between the years is much lower in Europe, pointing to a generally more stable market. These months have consistently stayed above and 80% on-time rate. There was, however, a 1% decrease in performance between March and April 2023.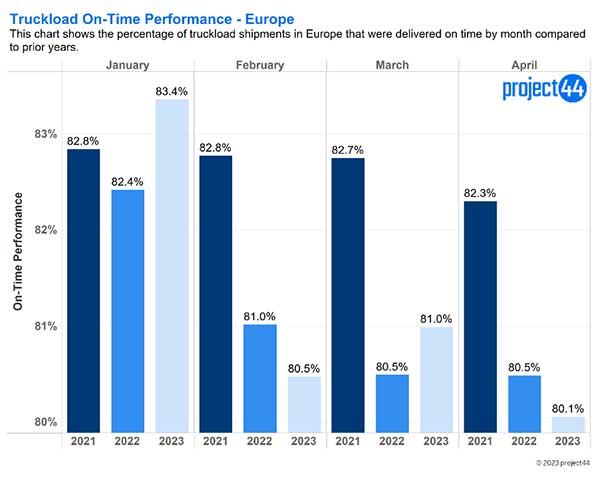 On-Time Performance- US Rail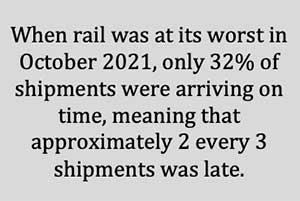 Rail has had a tumultuous couple of years in the United States. Between high volumes, yard space shortages, chassis shortages, labor disputes, and large accidents like the one we saw in East Palestine, Ohio, the rail network in the US has been under a lot of stress.This stress is displayed by on-time performance rates.
Since 2021, this number has been climbing. February 2023 was the highest performing month prior to 2021 at 67% on-time. This number has dropped since then, but even April's 57% on-time percentage is a 25% improvement from October 2021.
While rail transportation is still far from perfect, it is important to note the steady upwards trend of on-time performance in the market. The lightened volume and lessened obstacles should assist rail on getting back on track, and we are already seeing some great improvements.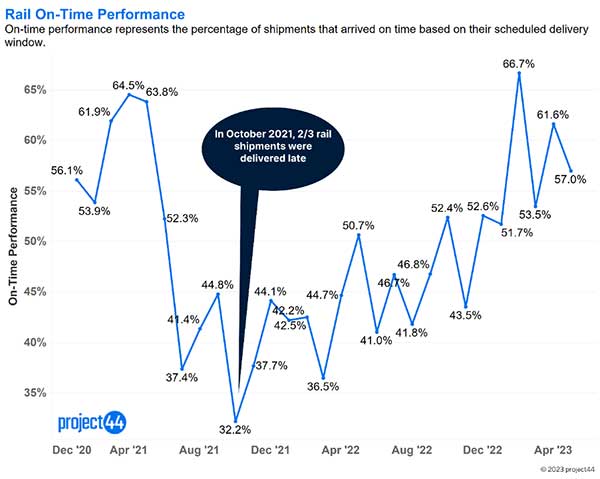 Key Takeaways
Supply chains have been no stranger to disruptions over the course of the past few years based on the on-time performance of truck and rail shipments. On-time performance of full truckload shipments in the United States and Europe has shown varying trends. While the US market has experienced fluctuations and challenges, the overall on-time performance has improved in 2023 compared to 2022. Europe, on the other hand, has maintained a relatively stable market with consistently high on-time rates. The rail network is far from perfect, but has had a very strong recovery from its low points in 2021 and is trending positively. Overall, the recent lower volumes and more stable environment have enabled supply chains to recover.
About project44
project44 is on a mission to make supply chains work. As the supply chain connective tissue, project44 operates the world's most trusted end-to-end visibility platform that tracks more than 1 billion shipments annually for over 1,200 of the leading brands, including top companies in manufacturing, automotive, retail, life sciences, food & beverage, and oil, chemical & gas. Using project44, shippers and carriers across the globe drive greater predictability, resiliency and sustainability.
The undisputed leader in the market, project44 was named the Leader in the Gartner Magic Quadrant, #1 in FreightWaves FreightTech 2022, the Customer's Choice in Gartner Peer Insights Voice of the Customer report. project44 is headquartered in Chicago with a diverse team spanning 17 global offices. To learn more, visit www.project44.com.
For questions or comments:
[email protected]
Disclaimer: The information conveyed herein, shared solely for summary and not contractual purposes, comes from both project44 and third-party reporting. The project44 data does not include all available market information, and project44 has not undertaken to independently verify the third-party reporting. Similarly, this type of data changes from day-to-day. Accordingly, the reader should not rely on this reporting to make any business decisions, and project44 expressly disavows any liability arising from any such reliance.
The post project44 State of Ground Transportation May appeared first on Industry Today.