By Arvind Rao, CTO of Edge Platforms, EdgeVerve
Increasing labor costs, a scarcity of skilled workforce, and intense global competition are some challenges industrial organizations face today. Thanks to AI, automation, and advanced analytics, industrial organizations and manufacturers can respond to these challenges quickly, thus improving operational efficiency, energizing production processes, and reducing costs. In particular, the capabilities provided by AI-driven automation have myriad applications for industrial organizations, with its benefits contributing to a more than $200B market for the manufacturing sector alone (2023 Precedence Research).
Challenges in Implementing AI
Industrial organizations face unique challenges in implementing AI and automation solutions. First among these is the operational downtime required to implement the technology. This process often necessitates halting production processes temporarily, which can be costly. Finding the means to integrate AI seamlessly without causing extended disruptions is critical to any industrial organization's path forward.
Another area for improvement (albeit hardly unique to industrial organizations) is finding personnel with the skills required to implement AI-based solutions. Applying AI requires skills that may be limited in traditional manufacturing firms, including data science, machine learning, and AI programming. This can lead to difficulties in recruiting, training, and retaining appropriate personnel.
Additionally, manufacturing companies and other industrial organizations generate enormous amounts of data from machines, sensors, enterprise resource planning (ERP) systems, and more. As a result, ensuring robust data management is critical to the success of any AI-driven automation. Managing this data effectively to extract meaningful insights can be challenging, and providing excellent data quality, data hygiene, and effective preprocessing can be complex and time-consuming.
Finally, integrating AI and automation with an existing infrastructure comprising older systems can present upgrade challenges. The diversity of the applications and legacy hardware also presents issues in building an integrated solution.
Despite these and other obstacles, the benefits of AI-based automation far outweigh the challenges. The 2023 Gartner CIO and Technology Executive Survey found that 32% of respondents said their organizations had already deployed AI and machine learning, with an additional 17% indicating they would follow suit within the next 12 months (Gartner, 2023).
Specifically, AI-driven automation can positively impact two primary elements of the manufacturing value chain – automation of manual processes and automation of production planning.
Automating Manual Processes
Automating critical processes represents the most significant opportunity for near-term benefits for industrial organizations. These processes span multiple areas of the organization. Shipment management can contribute to more streamlined operations, from checking orders to reviewing costs and updating order status. AI-driven technology can make shipping processes faster and smoother by instantly recognizing data, sorting packages, and making complex shipping calculations. AI-driven automation can also help optimize route management for shipments of incoming and outgoing resources, deliver superior cost control, and a better customer experience. Streamlining data collection can even automate shipping communication to customers, reducing follow-ups.
When it comes to planning, automating multiple aspects helps to reduce errors and speed decision-making. For example, AI can automate the creation of bill-of-materials covering multiple manufacturing components or provide insights into sales, inventory issues, and product performance. These processes can also aid sales teams by predicting future sales and automating data collection to deliver more realistic estimates for specific products.
Consider Phillips, a global healthcare manufacturer; the organization wanted to reduce costs and optimize its finance and accounting processes across 100+ countries. Its existing operations required extensive manual intervention, which impacted the accuracy of its results. Moreover, these processes were fragmented across a complex IT landscape. Automating the process end-to-end was a challenge due to errors and exceptions.
By implementing AI-based automation, this organization was able to save more than 1M+ hours across its global organization. That resulted in more than $40M in real-world savings with less than two years into the implementation. They continue to automate other processes to continue to drive further ROI.
Production Planning
AI-driven automation can also be used to automate the scheduling of production processes. This can help to optimize production, reduce waste, and improve efficiency. Some examples include the automation of SOP creation and maintenance, assisting production planners with forecasts, and monthly and weekly production plans based on detailed data from multiple applications. This extends to automation quality control processes such as overall monitoring, vendor response time, vendor quality scoring (based on preset criteria), CAPA adherence, and other requirements.
AI-driven automation can also schedule routine machinery maintenance, ensuring it's carried out on time and helping prevent unexpected downtime. Automation can create, monitor, and send alerts for preventative situations, alerting maintenance teams before a problem happens. Data from the U.S. Department of Energy indicates that predictive maintenance can yield a potential ROI of roughly ten times the cost.
Ingredients for Success
So how can industrial organizations get started implementing AI-driven automation? What steps are required to address the challenges we listed earlier? Industry analyst firm Gartner's recent 2023 report, "5 Practical Steps to Implement AI Techniques," provides a great starting point for industrial organizations. When applied to your organization's unique needs, these steps can help you plan a successful path toward true AI-driven automation and the ROI it provides.
First, industrial organizations must define the KPIs to make their use cases worthwhile. What results would make this implementation worth the resources required? Second, find the right personnel for the job. That means investing in the right analytics, IT, and business skills necessary for the identified business use cases. Assign data experts to select, secure and prepare the appropriate data linked to the selected use cases.
Determine the most appropriate AI techniques depending on the problem to be solved and the skills at your disposal — remember that those techniques can be combined to address the selected use case.
Finally, keep the AI "technical debt" – the implied cost that future revision of an implemented solution required when choosing an easy but limited solution instead of a better approach that could take more time – at a minimum and keep the learning within the organization by building an AI expertise organizational structure designed for knowledge transfer and problem-solving.
By following these straightforward steps, AI and automation can help improve productivity and efficiency in the manufacturing industry. It can also free workers to focus on more complex tasks, helping to drive innovation and growth. However, it's important to note that successful implementation of AI requires careful planning and management to ensure that it's used effectively and ethically. What's clear is that this effort is worth it as AI continues to increase throughout the manufacturing industry.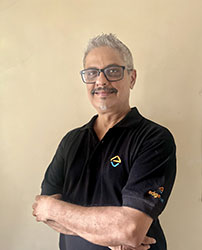 About the Author:
Arvind Rao is the Chief Technology Officer, Edge Platforms, EdgeVerve. Arvind has significant experience leading globally distributed product teams through the entire software development lifecycle for various large-scale, mission-critical products. Prior to joining EdgeVerve, he spent over two decades with e2open where he also held the position of Chief Architect. He began his journey with e2open during its early years in the US, followed by Zyme Solutions in India, and back at e2open after they acquired Zyme. Arvind has worked briefly for Telus Mobility (Toronto) as an Enterprise Architect, leading their Enterprise Architecture initiatives. He started his professional journey with DSET Corporation, NJ, a start-up focused on Telecom Network Management tools and applications. Arvind holds a BE (Comp Science) from Bangalore University and an MS (Computer Science) from the University of Kentucky.
About EdgeVerve:
EdgeVerve Systems Limited, a wholly-owned subsidiary of Infosys, is a global leader in developing digital platforms, assisting clients to unlock unlimited possibilities in their digital transformation journey. Our purpose is to inspire enterprises with the power of digital platforms, thereby enabling our clients to innovate on business models, drive game-changing efficiency and amplify human potential. Our platforms portfolio across Automation (AssistEdge), Document AI (XtractEdge), and Supply Chain (TradeEdge) helps inspire global enterprises to discover & automate processes, digitize & structure unstructured data and unlock the power of the network by integrating value chain partners. EdgeVerve, with a deep-rooted entrepreneurial culture, our innovations are helping global corporations across financial services, insurance, retail, consumer & packaged goods, life sciences, manufacturing telecom and utilities, and more.
EdgeVerve. Possibilities Unlimited.
www.edgeverve.com
The post Optimize AI-driven Automation in the Industrial Sector appeared first on Industry Today – Leader in Manufacturing & Industry News.