"We support circular economy entrepreneurs who are helping to achieve community-wide waste diversion goals," says Amanda Jordan, Circular Economy project manager for the City of Phoenix.
Summary
Lithium batteries are playing a vital role in the transition towards cleaner energy across various industries. The demand for these batteries is skyrocketing in different parts of the world. Once their expected useful life of 5 to 10 years comes to an end, the lithium batteries undergo thorough testing and are repurposed for less power-intensive applications, such as energy storage. This way, they continue to function for another 5 to 10 years.
The low cost of used lithium cells, which are incorporated into solar energy generation systems, has contributed to the reduction of renewable energy prices for consumers. The repurposing of lithium batteries not only reduces waste but also lowers the energy required for recycling. These advantages make lithium battery technology the most sustainable power storage technology available today.
A Flood of Used Lithium Batteries
Lithium-ion batteries are becoming increasingly popular due to their usage in electric vehicles, industrial equipment, renewable energy storage, IT and telecommunications backup power, medical equipment, home appliances, and electronics.
However, due to a surge in demand, the cost per kWh for lithium batteries has risen for the first time in 2022, resulting in higher costs for those purchasing energy storage batteries in renewable power systems.
Despite efforts to recycle lithium batteries, there is still a need to significantly reduce waste from the expected increase in batteries reaching their end of life.
OneCharge Lithium Cells Get Second Life at Bluewater Battery Logistics
OneCharge began producing lithium forklift batteries in 2014, and many of its battery packs are still in use, even after their 5-year warranty has expired. However, some batteries are returned to the company before their useful life is up due to reasons such as the end of a trial period or physical damage.
The story of a OneCharge 80V 360Ah LFP forklift battery started in a fruit-producing company's packaging facility in Washington, USA. They were testing the benefits of lithium batteries versus lead-acid and decided to try one in a Hyster E55XN Class I sit-down lift truck. After the trial period, they were impressed and ordered larger capacity 630Ah 80V lithium batteries for their fleet, allowing for single-battery multi-shift operations.
The demo battery came back to Onecharge, with many cycles and years of life left in the cells, but not applicable for a new forklift battery.
In 2022, OneCharge joined hands with Bluewater Battery Logistics to repurpose and recycle lithium forklift batteries. Bluewater conducts tests and assessments of the batteries and sends the non-functional cells for hydrometallurgical recycling while the functional ones are repurposed for other applications. "Bluewater Battery evaluates a few variables to find the optimum way to repurpose the batteries for a second life and minimize the environmental impact," says Steve Feinberg, President at Bluewater. "We look at the condition of the cells, geographical location for minimal shipping, and our partners' expertise to repurpose batteries." The batteries' new lives in secondary applications depend on their test results: voltage, Ah capacity, and various state of health (SOH) parameters.
That's how the LFP prismatic lithium cells from the Washington demo battery ended up at the Bluewater battery purgatory, where they were tested and their next application was found.
Second Life of Lithium Forklift Batteries
BlueWater collaborates with various companies that use creative solutions to recycle lithium cells for different purposes. Among them is HigherWire, which caters to small- and medium-capacity users up to 50kWh. Their goal for 2023 is to have a few thousand kWh installed.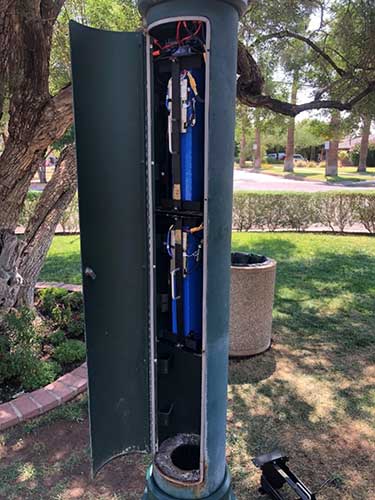 Since 2019, HigherWire has been acquiring used lithium batteries from forklifts, EVs, and golf carts. They also accept smaller cells from e-bike and scooter batteries, as well as even smaller cells from consumer electronics.
"It is really important to be able to accurately estimate batteries' SOH," says Trevor Warren, CEO of HigherWire. "We want to make the whole concept of repurposed lithium batteries more viable and drive the cost down." Trevor advocates for the provision of a reliable digital record, or "passport", for every battery, containing data on its usage and current state. This would result in significant savings in labor and energy costs associated with testing, as well as increased trust from end-users.
Meanwhile, Warren offers power sources and assistance in designing solar energy systems for both B2B and B2C segments. The company caters to local governments, municipalities, and even remote rural users and solar generators. HigherWire also directly sells 12V and 24V battery packs to end-users for various purposes such as RVs, fishing boats, portable and home reserve power packs, etc.
A good example of the use of the HigherWire solution is the pilot project with the City of Phoenix. "Here at the city, we want to be supporters of circular economy entrepreneurs helping our region transition from the linear economy and keep waste out of the landfill," says Amanda Jordan, Circular Economy project manager for the City of Phoenix.
Jordan teamed up with Higherwire on a pilot project to use remanufactured lithium batteries for solar panel energy storage to power lighting in South Mountain Park. The project was launched on June 9, 2023, and will continue for one year. The key concern is the batteries' resistance to heat. "The positive outcome of this project will pave the road to the mass usage of second-life lithium cells as energy storage for the renewables (in Arizona)."
The story of the OneCharge demo battery concludes here. The lithium cells, previously utilized in a forklift at a fruit packaging plant, have now been incorporated into an energy storage system for a solar array. These cells are projected to function dependably for an additional 10 years.
U.S. will see 1 million annual EV sales this year and used EV batteries will provide used lithium cells for bigger-scale projects. "We work to directly repurpose EV battery packs across a few different OEMs," says Antoni Tong, CEO at Smartville, which currently has multiple grid-interconnected projects under development. "[Repurposing used lithium batteries] supports domestic supply chain and manufacturing," explains Tong.
Smartville's clientele consists of commercial and industrial entities that require energy storage systems ranging from a few hundred kWh to a few MWh. One of our notable customers, UC San Diego, utilizes our 2nd life battery energy storage system to store solar energy from their 200-kW rooftop solar panels. This helps to minimize demand on the local utility grid after sunset and avoid peak electricity rates. Our 500-kWh system also provides up to 48 hours of emergency backup power.
Finale Thoughts
Lithium battery technology is crucial in the fight against climate change and plays a significant role in the energy transition. By repurposing lithium cells that have reached the end of their lifespan for less-demanding applications, we can greatly reduce waste. Moreover, the abundance of used lithium industrial batteries can fuel the creation of new businesses and lower the cost of solar energy from small rural plants to large MWh installations. This, in turn, accelerates the adoption of renewable energy sources.
The post OneCharge Forklift Batteries Find Second Life in Solar appeared first on Industry Today – Leader in Manufacturing & Industry News.