The Netherlands −
Today's consumers are using their spending power to ensure their voice is heard by ardently supporting brands that commit to natural ingredients and transparency. To this end, cosmetic beauty brands are increasingly marketing products with labels such as "Clean Beauty" or "All Natural" with Natural Origin Index (NOI) labels based on ISO 16128. This essential criterion describes an approach to calculate the Natural Origin Index of cosmetic ingredients and formulations, which in turn indicates the extent to which the ingredient meets the definition of derived natural ingredients.
This demanding cosmetic beauty trend for natural ingredients is growing and is perceived as the key to healthy and vibrant results. Propelling this trend forward, Shin-Etsu Silicones Europe B.V. (SESE: Head Office The Netherlands: A subsidiary of Shin-Etsu Chemical Co. Ltd., Japan) has introduced its KSG-45 Alkyl Modified Silicone Elastomer Gel in which alkyl-modified silicone is crosslinked with silicone. Most notably, the silicone elastomer gel is swollen with a plant-based oil as a natural diluent−resulting in a smooth texture that blends well with the skin.
A pioneer in the field of silicones for personal care products, the new natural diluent system represents SESE's commitment to markets demanding natural ingredients. The goal of the product is to allow cosmetic formulators to capitalize on the outstanding performance and sensorial advantages of silicone products, while maximizing the natural content of their products. Ultimately, KSG-45 is mainly plant-based, natural, and safe. Compatible with organic and natural oils, it provides them with a skin-friendly raw material−delivering a smooth feeling to cosmetic products.
KSG-45 / ALKYL MODIFIED SILICONE GEL / INCI:
COCO-CAPRYLATE/CAPRATE: A light emollient ester, it absorbs quickly and leaves a dry but silky finish on the skin. Also, it helps solubilize other cosmetic ingredients and provides a light, non-oily, smooth, and velvety skin sensation. It is the perfect oil to be combined with Shin-Etsu's leading silicone elastomer technology.
VINYL DIMETHICONE/LAURYL DIMETHICONE CROSSPOLYMER: A 3-dimensional swellable silicone network which has been designed to show optimum compatibility with this natural ester. It has excellent compatibility with other natural emollients commonly used in cosmetic products, and is well suited to be used along with these.
KSG-45 / NOI:
According to ISO 16128, the KSG-45 NOI is around 0.65−allowing a formulation with a high NOI without compromizing on the unique skin feel consumers expect to be delivered by silicone elastomers. When formulated appropriately, KSG-45 can provide a soft-focus effect on skin hiding wrinkles and skin imperfections.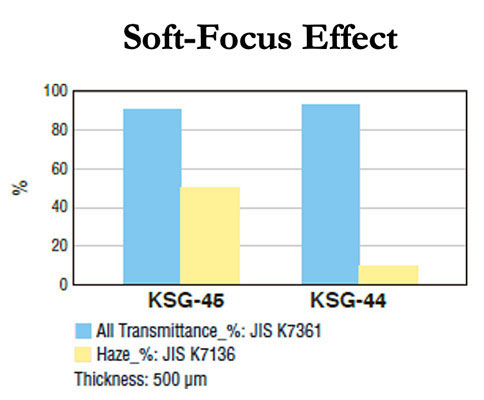 KSG-45 / NATURAL CONCLUSION:
According to SESE's Head of Sales/Cosmetics, Dr. Martin Kropfgans, "We recognize the importance of innovating solutions for consumers of cosmetics seeking high natural content options, with the progressive sensory effects and performance benefits of silicones. The KSG-45 is a novel elastomer gel and skin-conditioning agent, that is a naturally derived raw material and is ideal for a vast array of cosmetics products including: moisturizing creams, sunscreens, and high-performance, long-lasting makeup, amongst others."
SESE's Sales Promotion & Marketing Manager, Estelle Lenoir noted, "KSG-45's natural diluent system also allows cosmetics formulators to capitalize on film forming properties and enhanced aesthetics. Additionally, it is a COCO- CAPRYLATE/CAPRATE which is plant derived and functions in skincare and cosmetics as a solvent−helping cosmetic blends have a light texture and glide seamlessly on the skin and hair. We can now add this to our growing portfolio of cosmetics silicones with natural ingredients."
For more detailed information contact: http://www.shinetsusilicone-global.com/
Shin-Etsu Silicones Europe B.V.
Bolderweg 32, Almere 1332 AV, The Netherlands
Mobile: 49 (0) 151 2267 9350 / Office: 31 (0) 36 54 93 174
CORPORATE PROFILE: A European subsidiary of Shin-Etsu Chemical Co. Ltd., Japan, Shin-Etsu Silicones Europe B.V. offers vast technical and capital resources to formulate solutions as a major supplier of silicone materials to international medical, automotive, electronics, aerospace, cosmetics, and manufacturing industries. Shin-Etsu's premium silicone compounds incorporate leading-edge technology, staff expertise, and value-added service; offering customers the highest levels of quality and consistency in specialty silicone materials.
Author: Dr. Martin Kropfgans / Shin-Etsu Silicones Europe B.V. / 49 (0) 151 2267 9350 / [email protected]
Editorial & Photo Contact: Ray Farrar / Method Media LLC / 216-262-0726 / [email protected]
©2023 Shin-Etsu Silicones Europe B.V. All rights reserved.
The post Nurturing The Natural/Clean Cosmetic Trend appeared first on Industry Today – Leader in Manufacturing & Industry News.