By Greg DiPalma, Vice President of Enterprise Sales at XPO
After decades of reliance on global supply chains, many manufacturing companies are reversing the course and moving their operations from Asia to North America. This growing trend, called nearshoring, allows companies to consolidate supply chains and lessen the dependence on many moving parts. The benefits in the post-pandemic world with rising labor costs and geopolitical tensions are clear – reduced risks and improved resilience and oversight over their supply chains.
While some of these companies are setting their sights on the United States, both Mexico and Canada are seeing tremendous growth as a result of these nearshoring efforts as well. This has generated significant need for reliable cross-border freight transportation for smooth movement of goods between the three countries.
Finding the Right Logistics Partners is Key
Navigating the complexities of shipping products between Mexico, the U.S., and Canada can be daunting for large, established companies and smaller businesses alike. There're numerous challenges to consider ranging from regulatory compliance to infrastructure limitations, cargo security concerns, and complex border procedures.
The right freight transportation provider is key to helping facilitate the process, mitigate the potential for problems to arise and establish a dependable and agile cross-border freight transportation operation. It's important to assess capabilities and expertise when selecting a cross-border logistics partner.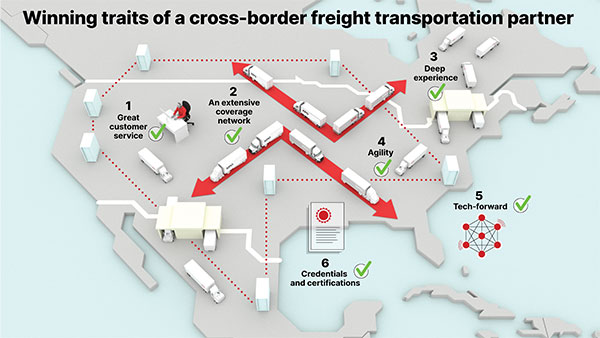 Investing in Robust Networks and Trusted Expertise
First, look for a company with an extensive and well-connected network. A robust network can significantly streamline shipping operations while minimizing freight rehandling. Carriers with broad coverage across North America enable shippers to work with a one-stop shop for transportation services that can best accommodate their needs.
For this reason, less-than-truckload (LTL) providers with a vast network may be a suitable option for maximized cost savings, agility, and better handling of freight.  For example, XPO covers 99% of zip codes in the U.S. and provides 13 border crossings in Mexico and nine in Canada, enhancing efficiency and flexibility in delivering cargo across North America.
Another important detail to consider is your partner's in-house capabilities, experience, and certifications. Not all providers possess the necessary expertise for seamless cross-border movement, so opt for carriers with experienced professionals dedicated to your cargo's safety and security throughout the shipping process. Look for certifications like Partners in Protection (PIP) from the Canada Border Services Agency, ensuring efficient and secure freight movement as a "trusted trader" in line with industry standards. Additionally, inquire about drivers being Free and Secure Trade of FAST-certified, which signifies commercial driver clearance for safe cargo movement across the Canada-US border.
Having relevant experience in a specific industry is vital for your cross-border transportation partner, whether you're moving automotive parts, raw goods, or hazardous materials. Inquire about referral programs that connect you with trusted customs brokers for a personalized hassle-free experience on both sides of the border.
Embracing Technology and Digitization
Advancements in technology have revolutionized the logistics industry, and cross-border freight transportation is no exception. Companies must adopt innovative digital solutions that offer real-time visibility of shipments, track inventory, and provide insights into potential bottlenecks. Look for companies that lean into real-time data and leverage artificial intelligence and tech innovations in their operations.
Enhanced technology can also help facilitate ease of communication, an essential component of successful cross-border logistics. A tech-enabled carrier partner can provide real-time help to ensure seamless execution of shipment booking, paperwork, and coordination with customs brokers.
Embracing nearshoring offers companies a range of benefits, from reduced supply chain risks to lower costs, increased operational efficiency, sustainability gains and more. However, to fully capitalize on the advantages of nearshoring, investing in a premium cross-border transportation partner and embracing technology-driven solutions are imperative. Collaborative efforts among businesses, their key suppliers and logistics providers will play a crucial for a successful cross-border manufacturing supply chain.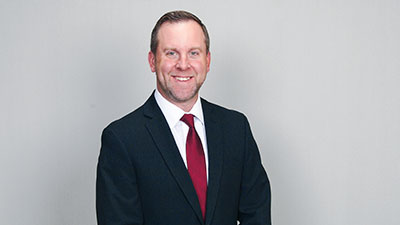 Greg DiPalma is vice president of Enterprise Sales at XPO, a leading provider of freight transportation in North America. In his role, Greg is responsible for driving sales with the company's 200 largest customers. Since joining XPO in 2015, Greg has played a critical role in developing key strategic customer relationships. He has more than 20 years of freight transportation industry experience in sales, operations and business development roles.
The post Nearshoring: How to Navigate Cross-Border Logistics appeared first on Industry Today – Leader in Manufacturing & Industry News.