By Umair Ejaz, Product Marketing Manager, Visual Components
Whether it's automotive, engineering, material handling or even food and beverage production, the manufacturing sector as a whole has been threatened by inflationary spikes, skills shortages and the pressure to keep pace with technological change. Decision-makers have had to adapt to deal with external forces while ensuring that goods move efficiently through the production line and into the supply chain for end user consumption. Add the need to contribute to sustainable practices, and it's a plethora of challenges to overcome in 2023. Manufacturing lines must move with the modern times, but where can organizations look for that helping hand to guide them into the digital era?
Macro factors
Not long after the industry had pivoted to deal with Covid-19 and Brexit-related issues, 2022 signaled a new phase of increased pricing for goods and services. Inflation in the US reached 8.5%, its highest rate since 1982. Not only did this place a strain on budgets and created a need to painstakingly search for cheaper suppliers and partners, but even blocked sustainable initiatives for over two-thirds (67%) of US-based organizations as investment had to be refocused elsewhere.
It was perhaps expected that as maintaining operations across several countries and transporting goods across long distances became more expensive, over half of US manufacturers (52%) had plans to reshore their operations back to the country of origin. While inflation has started to ease, it's a trend that makes sense for manufacturers feeling the pinch in tough economic times, but what about the challenges taking place on the factory floor?
Skills shortages and new applications
As manufacturers look for innovative ways to maintain and modernize their factory lines under an economic cloud, the other key area of focus is addressing the persistent skills shortage in the sector. After all, if more operations are being brought back to the factory of origin, who is in place to oversee and manage these workloads? On a global scale, around 10 million manufacturing jobs remain unfilled due to insufficient skills.
Decision-makers are not just having to spend more money and time finding hard-to-source talent, but are stretching these professionals too thinly across a range of new manufacturing applications. Many have brought in robots, or collaborative robots (cobots), to replace legacy equipment and complete welding, cutting and assembling processes automatically to support humans. But manually programming the technology to provide this benefit takes time. So long in fact, that it can be weeks before a robot is up and running. Add a range of different robot brands to the mix, and the human workload can actually worsen.
Technology as the driver
To truly tackle these challenges and modernize the manufacturing environment, organizations must look towards technology that can drive innovation, save money, support humans and foster sustainable initiatives. Rather than force workers to test and train robotic applications on the physical factory floor, offline programming software (OLP) can devise a highly accurate virtual model of the robot and work cell and replicate its movements and workflows via simulation.
Engineers are able to evaluate trade-offs in a risk-free sandbox environment and make cost-effective decisions to benefit the business. Designs can be fully validated before deployment and established accuracy and consistency ensures repeatable levels of quality. Concurrent programming, rather then sequential, means much less time is spent on preparation before the production launch of a new item.
As all automated programming can be completed offline and away from the physical machinery, manufacturers avoid the risk of any accidents and injuries. Giving engineers the tools to complete these tasks remotely is also beneficial to sustainability. Carbon emissions can be lessened by the reduced need to travel to sites, with staff also able to collaborate in real-time from wherever they are.
A long-standing narrative among many in the industry is that as robots and automation technologies are more widely deployed on the factory floor, it will completely exclude the need for humans. In reality, these innovations are actually helping to upskill people in using new solutions and plug the talent gap. Intuitive, plug-and-play components can help train employees in how to effectively test factory floor deployments and drive efficiencies.
Future innovations
In the midst of macro and micro challenges, technology can both drive manufacturing innovation and support humans in the industry. Moving forward, wider deployment of simulation software at an educational level will help feed an incoming pipeline of skilled individuals entering the workforce. The new generation are also versed in new technologies and increasingly expect to leverage the latest solutions. Over the next decade or so, robot deployments will only gather pace as technology improves, and supporting solutions will allow organizations to make best use of them in the digital era.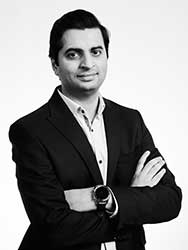 Umair Ejaz has been in his current role as Product Marketing Manager with Visual Components since August 2020. He is a creative technical product marketer and his experience of working with different products including apparel, construction machines and simulation software has uniquely shaped his career and led to him becoming a better storyteller on the products.
The post Manufacturing Lines for Modern Times appeared first on Industry Today – Leader in Manufacturing & Industry News.