By:  Marcos Aurelio Alves Junior, B. Eng.
Lean Manufacturing is a well-known approach to enhancing productivity and reducing wastage by optimizing direct labor activities. However, with the rise of automation and machine-based production, the traditional principles of Lean Manufacturing may no longer seem effective. That's where Machine Kaizen comes in. It's an example of how Lean Manufacturing can be tailored to suit the requirements of a highly automated environment.
Machine Kaizen is a Lean Manufacturing methodology that focuses on continuous improvement of machines and equipment, rather than just direct labor activities. The approach involves analyzing data from the machines and using it to identify areas of improvement. By optimizing machines and equipment, organizations can reduce downtime, improve product quality, and increase production efficiency. In addition, Machine Kaizen can also help identify areas where automation can be implemented to further increase efficiency and reduce waste.
The implementation of Machine Kaizen requires a change in mindset from focusing on individual tasks to a more holistic view of the production process. This requires collaboration between operators, technicians, and engineers to identify opportunities for improvement and implement changes. The process involves regularly monitoring and analyzing machine performance to identify inefficiencies, followed by implementing improvements through a structured problem-solving approach.
The Machine Kaizen framework involves several stages that are designed to identify improvement opportunities, perform technical analysis, assess risks, and present a business case to top management.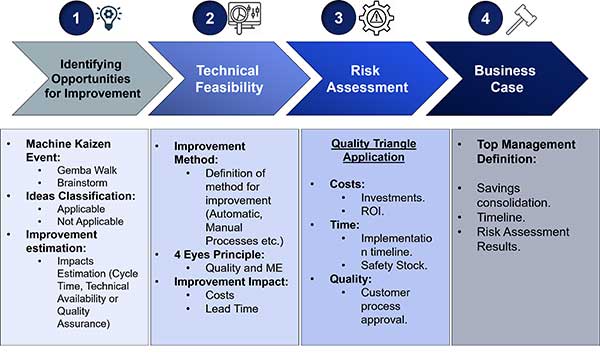 Identifying Opportunities for Improvement
The first step towards improving a process involves identifying the areas that are causing the most problems. This is typically done by analyzing the equipment and processes to find out where bottlenecks occur. These bottlenecks can be characterized by long cycle times, quality issues, or low technical availability due to equipment problems. Once the problem areas have been identified, a Gemba Walk and brainstorming session is conducted to generate ideas for improvement. The team then classifies these ideas based on their potential to improve cycle time, technical availability, or quality assurance.
Once the improvement ideas have been generated, the team conducts a feasibility study and technical analysis of each idea. The 4 Eyes Principle is applied, which involves having two experts review and validate the proposed changes to ensure that they will not negatively affect quality or process. Customer validation is also performed via quality and production engineering analysis. This stage helps to estimate the impact of the improvements on cycle time, technical availability, and quality.
Before implementing any changes, the team must assess the risks associated with the proposed improvements. The team evaluates the costs of the proposed changes, lead time, potential safety stock, and customer process validation. The evaluation is performed based on the quality triangle, which balances cost, lead time, and quality. The team identifies potential risks and assesses their potential impact.
The final step involves presenting a business case to top management. The business case includes the improvement concept, estimated savings, and the results of the team's risk analysis. Top management reviews the business case and decides whether to approve the proposed changes. By following these steps, the team can identify opportunities for improvement, analyze technical feasibility, assess risks, and present a sound business case to management for approval.
Overall, Machine Kaizen is a valuable approach for companies operating in high automation environments. It allows organizations to optimize machines and equipment, reduce downtime, and increase production efficiency. Additionally, by identifying areas for automation, Machine Kaizen can help companies stay competitive in a rapidly evolving manufacturing landscape.
The post Machine Kaizen: Tailoring Automation Optimization appeared first on Industry Today.