By 2025, Leuze will have doubled its sales growth since 2020, and not for the first time. With a sales increase of 25 percent, Leuze took another big step toward achieving this ambitious goal in 2022. And the company is set to make further investments: in international structures as well as in its employees and new talent.
Expanded executive management
Due to the company's strong growth, Leuze has begun to gradually and systematically place the entire company on a broader footing – in terms of its processes and its organization. A year ago, Helge Held (CFO and Commercial Director) and Dr. Henning Grönzin (CTO and Technical Director) joined the Leuze executive management.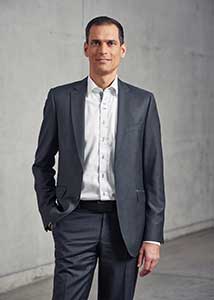 Hamers becomes the new CEO of Leuze
On April 1st, Xavier Hamers began his role as the new CEO and Chairman of the Executive Board of the global Leuze electronic Group. He studied mechanical engineer has a strong technical and business background. He also brings many years of international experience in sales and business development to the role. His goal: "The design and service-oriented implementation of technology must give our customers real added value and enable them to sustain their success in a continuously changing industry".
The Sensor People welcome Hamers and wish him all the best in starting his new role.
With curiosity and determination, the Sensor People from Leuze have been creating innovations and technological milestones in industrial automation for 60 years. They are driven by the success of their customers. Yesterday. Today. Tomorrow. The technology leader's high-tech product range includes a number of different sensors for the field of automation technology. Among these are switching and measuring sensors, identification systems, and data transmission and image processing solutions. As a Safety Expert, Leuze is also focused on components, services and solutions for safety at work. Leuze concentrates on its core industries, in which the Sensor People have extensive, specific application know- how and many years of experience. These include intralogistics and the packaging industry, machine tools, the automotive industry as well as laboratory automation. Leuze was founded in 1963, headquartered in Owen/Teck in Southern Germany. Today there are more than 1400 Sensor People around the world who are working with determination and passion for progress and transformation to make their customers successful in a constantly changing industry. Regardless of whether in the technological competence centers or in one of the 21 sales companies, supported by more than 40 international distributors.
Leuze electronic, Inc
55395 Lyon Industrial Drive
New Hudson, MI 48165
Jennifer Mass
Phone: +1 (248) 752-6712
[email protected]
The post Leuze Announces a Change of Management appeared first on Industry Today.