Medford, MA – Inkbit, a leading additive manufacturing company, will be exhibiting at this year's RAPID +TCT event, with the aim of showcasing its capabilities in the mass production of high-end 3D parts.
At the event, Inkbit will showcase its breakthrough technology, the Inkbit Vista AM system, which uses vision-based closed-loop feedback control to deliver exceptional throughput, repeatability and dimensional accuracy – matching the precision of traditional machining while taking advantage of the flexibility and versatility of additive manufacturing. With its range of acrylate-free materials, the Inkbit Vista

offers production-grade parts ranging from extremely tough, to chemically resistant and soft and stretchy.
The combination of precision with production materials and low-labor post-processing, allows manufacturers to produce accurate, high-performing products at a lower cost and in less time for a range of applications across numerous industries, including industrial robotics, gaskets, fluidics and drones.
"We are thrilled to be exhibiting at RAPID + TCT again this year," says Davide Marini, CEO of Inkbit. " With Inkbit, you can have the precision you need with the flexibility you want. Our technology is enabling manufacturers to produce accurate, repeatable parts at genuine production volumes and speeds. Since last year's show, we have announced new materials and gained new customers, and we're excited to share all this with the RAPID + TCT community."
RAPID + TCT will take place from May 2nd – 4th, 2023, at the McCormick Place Convention Center in Chicago, Illinois. Attendees are invited to visit Inkbit at booth # 4846 to see the Inkbit Vista

running live and learn about its game-changing capabilities.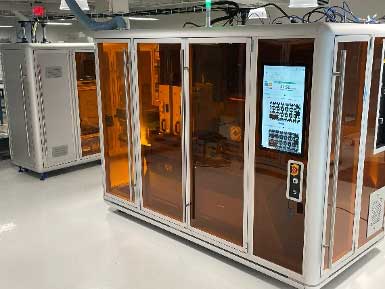 About Inkbit
Inkbit is an additive manufacturing company located in Medford, Massachusetts. The Inkbit Vista

system is designed for mass production of end-use polymer 3D printed parts. Incorporating a novel technology called Vision-Controlled Jetting (VCJ), Inkbit delivers high-resolution additive manufacturing, enabling users to produce parts with extreme dimensional accuracy and precision at high volume. Using high-speed scanning, Inkbit delivers a material jetting platform with the throughput, precision, and materials required by the most demanding industrial applications. Learn more at inkbit3d.com.
Media contacts:
Claire Russell-Jones, Incus, call: +44 1737 215200 or email: [email protected].
Suzan Niksarlioglu, Incus, call +44 7769 398206 or email: [email protected].
The post Inkbit Demonstrates Next-level Additive Manufacturing appeared first on Industry Today.