From a young age, we learn the not-so-subtle art of one-upmanship. You know, the classic playground taunts of "anything you can do, I can do better." Of course, it doesn't end at the playground. In business, one smartphone company releases a phone with a 14-megapixel camera, so a competitor releases one the next month with 14.1 megapixels, and on and on it goes.
It appears this age-old practice has crept into manufacturing marketing, and nowhere is this more clear than when we see people heralding the dawn of Industry 5.0 when Industry 4.0 has yet to reach anything close to full adoption. Put simply, the gap between substance and hype in manufacturing technology marketing is out of control.
Why Industry 5.0 is out of touch
1. Nobody cares
This might sound harsh, but it's a good reality check for all of us in the manufacturing software business. We believe in our products, and we try to find creative ways to market solutions that really can help manufacturers. But somewhere along the way, software vendors got into their own echo chambers and lost sight of the fact that manufacturers really *don't care* about our fancy buzzwords. They care about making money and solving problems. So… one-upping "Industry 4.0" with "Industry 5.0" is a bit like selling extra-sandy sand to a person in the desert. It's still not compelling.
2. You don't get to proactively declare a historical development
To return to basics, the whole premise of Industry 4.0 is looking back on history and breaking down manufacturing into eras marked by technological change. It's already ambitious to claim that we've experienced a fourth industrial revolution. According to one recent survey, 95% of manufacturers still use paper-based processes, and 27% use paper for more than half of all activities. That's far from the idealistic visions of Industry 4.0.
Time will tell if Industry 4.0 is truly an industrial revolution. I believe that current technology can bring about a turning point. But adoption isn't high enough yet to declare that Industry 4.0 has arrived yet, so it's time to pump the breaks on jumping any further ahead, no matter how great it sounds for marketing.
3. Does anyone really know what Industry 4.0 is at this point?
I'll be honest, I've been guilty of jumping on the Industry 4.0 bandwagon in the past. And like I said, I believe that emerging technologies are changing the game in manufacturing. But if we all step back for a moment, we recognize that we're all still trying to figure out what Industry 4.0 looks like. And that makes sense. We live forward and understand backward.
We're in the midst of a technological change that will only be fully understood once we have some time and perspective between the present and the future. For now, I'm more excited about helping to shape the future than prematurely categorizing the present as a revolution. Let's all focus on making the current changes a true revolution by providing real value rather than focusing on declaring new revolutions before the current has hit a tipping point.
How did marketers and manufacturers get so out of sync?
The difference between a fad and a movement with staying power is what drives change. When companies understand the problems of their customers and provide elegantly simple solutions, they create lasting change. Issues arise when companies begin guessing at problems and become detached from the real-life needs of their customers.
Manufacturers have data problems. They either struggle to collect it or don't know what to do with it when they have it. And vendors have rushed in to solve this. However, along the way, they've become too focused on fancy buzzwords like Industry 4.0 and smart manufacturing. Meanwhile, manufacturers are still asking, "how can I make more money and keep my machines running?" If you ask me, it's the vendors that stay focused on questions like these rather than coming up with the next buzzword that will be successful.
Let's get back to basics
Everyone is tired of companies overpromising and underdelivering. And no one likes being sold things they don't need. When the economy was red-hot, vendors got away with some of this because companies had plenty of cash to spend. That's not the case anymore, and manufacturers are growing increasingly skeptical of solutions that promise the world.
It's time for technology vendors to return to the basics. We must recognize the felt needs of manufacturers, focus on those, and leave the buzzwords in the past. Perhaps after a few decades of solving these on-the-ground problems, historians will look back and declare an industrial revolution. For now, let's leave those decisions to the historians.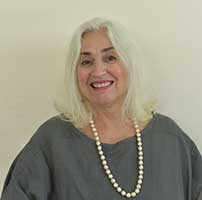 About the Author:
Terri Ghio is president of FactoryEye North America.
The post Industry 5.0? Not Even Close appeared first on Industry Today.