By Nisar Ahamad, Vice President, Head of Industries and Sustainability, Capgemini Engineering
Fully autonomous vehicles are on the horizon. Already, varying degrees of software-assisted driving are being tested on roads and highways globally, and these new technologies promise to drastically reduce road fatalities, boost lane capacity, thin road congestion, lower global emissions and make daily life easier for passengers and drivers. The opportunities for transforming the lives of drivers and manufacturers are vast.
Software-driven transformation
In recent years, the sands have begun shifting, and end-to-end digital capabilities will prove decisive for original equipment manufacturers (OEMs) to succeed. The traditional auto industry approach of relying on tier one suppliers is no longer sufficient, and in time, all the moving parts needed to support automated driving will see the formation of new hardware and software ecosystems.
Most manufacturers have started their digitization journeys, launching software-driven business units and establishing relationships with technology partners and cloud hyperscalers. However, given the intense competition in the space, OEMs must go one step further to accelerate their journeys to automated driving.
Vehicles are only set to become more reliant on software in the months and years to come. For this reason, OEMs must future-proof their systems today to remain competitive and innovate – while optimizing costs and maintaining robust safety standards. A recent study on software-driven transformation in the automotive industry found that software-based features and services for OEMs will be a $640 billion market by 2031. That signifies growth from 8% of annual revenues to 22% – more than three times the current value. With such tremendous potential for growth, being future-ready cannot be an afterthought for OEMs.
The five levels of autonomy
When evaluating the different capabilities, there are five levels of autonomy in assisted driving that OEMs need to account for. They are defined as: Level 0, with no automated vehicle control; Level 1 or 'hands on', with limited automation such as adaptive cruise control, parking assistance, and emergency braking; Level 2, or 'hands off', with automated acceleration, braking, and steering where a driver can intervene; Level 3, or 'eyes off', is where automation performs tasks in certain scenarios, like a 'traffic jam chauffeur' for motorway driving; Level 4, or 'mind off', is where no driver attention is required, but only within limited scenarios like a robotic taxi in designated self-driving areas; and Level 5 – 'steering wheel optional' – where vehicles can work on all surfaces, anywhere, in all weather conditions, and with zero human intervention required.
The stages of Level 3 and beyond will simplify motorists' lives with even more advanced automation, ushering in significant safety, fuel efficiency, and carbon reduction benefits. Already today, many drivers consider everything up to and including Level 2 a must-have when purchasing a new vehicle. But delivering the stages of higher autonomy – Level 3 and above – requires that new vehicles are equipped with certain physical technologies, such as cameras, Lidar, far infra-red and GPS all acting together as the cars' 'eyes and ears', as well as the intelligence to analyze and process information.
Charting the journey ahead
As vehicles continue to advance and consumers begin to demand more high-tech automotive experiences, control systems must take instructions from actuators to perform basic driving tasks like steering and braking. These systems must also be equipped with a wide array of ultra-accurate sensors, feeding back into the overarching vehicle system.
Because this equipment generates a vast amount of information where the accuracy of the data is vital, vehicles must also be equipped with adequate compute power from the get-go – and there are several key engineering considerations for OEMs.
From the design stage, manufacturers should assess the long-term view of vehicle needs and map out the required technological capabilities that will meet them. That includes every minute detail – from appropriate sensors and actuators to designing systems that support retrofitting. Suppliers should be identified, and new ecosystems subsequently drawn up to develop cost models with a full range, as well as purchase and pay-per-use options. This approach can help manufacturers to reduce the risk of complexity around acquiring new technologies.
Steps towards real interoperability
For automated driving to work effectively, software and hardware must work seamlessly and harmoniously. Almost every aspect of the vehicle will need to be informed by real-time analysis down to the smallest change in vehicular inputs, and tools that model outputs and deliver them to actuators as instructions.
These machines will also need to process environmental and vehicle data to enforce strict safety standards that are applicable across all models of the vehicle state, and come equipped with tools that take model outputs, sending these to actuators as machine executable instructions. In this complex software landscape, organizations must first define what's expected from the system upfront, before feeding this information into software design. And software that's open and interoperable becomes essential.
Embracing open software standards will help all the components talk to each other seamlessly – avoiding complications that strict proprietary systems may introduce in the future. Challenges such as locking vendors into dated code that complicates in-system communication and interoperability will be avoided by prioritizing software development correctly, and OEMs should be proactive about working with suppliers to acquire and integrate leading edge technologies like perception algorithms.
Validating every line of code is critical. Manufacturers should ensure that their algorithms can answer camera inputs with ultra-high levels of accuracy, while building and testing AI models using sensor data can assist in making sure that the software is performant.
Meanwhile, organizations should look inwards to evolve their internal culture into one that supports innovation, embracing flexibility, agile ways of working, and courting employees with non-traditional automotive skills. OEMs should identify the skills that they need, and embark on ambitious training programs for engineers, recruitment drives, and partnerships.
Reaching the stage where assisted-driving vehicles are as common on our roads as regular vehicles will take a great amount of care and consideration. As these new ecosystems and working practices are established, there's enormous opportunity for partners and manufacturers to collaborate and build the necessary trust for a self-driving future.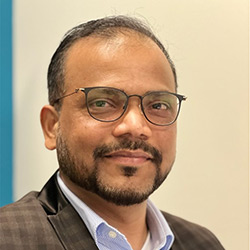 Nisar Ahamad is the Americas Sustainability Lead for Energy, Utilities, and Chemicals (EUC) at Capgemini Engineering. He has over 23 years of experience building and leading EUC, sustainability, industrial and communication businesses. Nisar has expertise in multiple engineering functions and has supported teams in AMI (Advanced Metering Infrastructure), intelligent industry, communications (wireline, wireless 4GLTE/5G), AI/ML (Artificial Intelligence & Machine Learning) and product support services.
The post How to Make Fully Automated Driving a Reality appeared first on Industry Today – Leader in Manufacturing & Industry News.