By: Hari Donthi, Director, Technology Solutions, EPAM Systems, Inc.
Over the past ten-plus years, the hype of Industry 4.0 has gradually come to a slow crawl, with many manufacturing companies needing help to bring to fruition their incredible promises. AI and MI, due to the high data volumes, are not easy to apply in factories – especially for high-speed manufacturing. Other challenges, like the ever-changing patterns and components in factories and setting up stable data pipelines for model training, continue to relegate the vision of Industry 4.0 to the conceptual phase.
Despite these challenges, the opportunities of Industry 4.0, and the problems it will solve, are invaluable. Currently, shop-floor technicians are constantly firefighting and working long, arduous hours. Likewise, factories always want to improve overall equipment effectiveness (OEE) by eliminating downtime, optimizing end cycle time and reducing scrap. Manufacturers also care deeply about employee training and safety and adhering to industry standards.
Thankfully, due to the emergence of generative AI technologies, the barriers that once blocked Industry 4.0 are crumbling down.
Generative AI Co-Pilot Technology to Improve OEE 
There are several high-value use cases of generative AI in the industrial sector, like co-pilot mode, which will help manufacturers achieve stability in factory operations and improve OEE significantly. In particular, co-pilot mode enables predictive maintenance to become even more powerful. Previously, a predictive maintenance solution would stream data and open a ticket whenever a time-series model detected an irregularity. However, with a co-pilot helping scientists and electromechanics generate better options and scenarios, predictive maintenance solutions can reduce unexpected downtime more proactively and effectively.
Additionally, generative AI co-pilot technology can decrease mean time to repair by automatically reading logs, generating actions, and making recommendations to engineers, like which parameters to adjust. Such automation capabilities will reduce batch-hold times and incident escalation to senior people, potentially eliminating the need for problem-specific pre-training and labeling. Generative AI co-pilot technology will also enhance OEE by optimizing cycle time through reduced bottlenecks; likewise, it can support intuitive, flexible dashboards that help workers improve yields. Plus, the co-pilot mode can connect disjointed systems and APIs.
Natural Language for Self-Serve Analytics and Data Democratization 
Manufacturers can leverage the natural language capabilities of generative AI to interact with data and promote self-service analytics and data democratization, enabling more personnel to explore production logs without having to write complex queries or use Python code. Self-service analytics and data democratization will also make life easier for MS&T (Manufacturing, Science and Technology) and PO&T (Process, Operations, and Technology) teams, who often struggle will large backlogs of data-intensive tasks when attempting to troubleshoot failures and improve OEE.
The average employee and developer will benefit significantly from self-service analytics and data democratization. For the typical staff member, natural language tools permit them to utilize data or custom plug-ins regardless if they know BI and SQL or have other data science skills. Likewise, developer teams can boost their productivity enormously. For example, developers can use prompt engineering to replace the need for delivering full-fledged and well-tested stable binaries to shop-floor technicians.
Generative AI for EHS: Environment, Health and Safety 
Another business area manufacturers can enhance through generative AI is safety and training. With this technology, companies can create better training material for factory floor technicians while truncating ramp-up time through individualized feedback from ChatGPT-style interactions. At the same time, manufacturers can implement unique learning paths that match employees' specific learning styles and skill levels, eliminating less-effective traditional group training.
Generative AI can make factories safer by highlighting errors in manufacturing instructions and analyzing work procedures for safety and compliance. It could also support QA systems for onboarding new technicians, allowing them to ask questions concerning specific scenarios in real-time. Similarly, manufacturers can use generative AI to create quality control reports automatically from raw data, reducing errors and decreasing costs.  
Finding the Right AI Partner for Strategy to Execution 
The emergence of new generative AI tools will transform factory roles, operating models and cost structures. As such, manufacturers should build a transformation and development roadmap before integrating such technology solutions into systems and processes. This roadmap will guide them throughout the implementation process, helping them identify high-value use cases, make tactical decisions and avoid common pitfalls.
An ideal roadmap must cover various aspects of an enterprise, from people and products to operations and infrastructure, even partnerships and ecosystems. And although manufacturers can complete many elements of pre-integration on their own, designing a successful and comprehensive roadmap can be challenging. The necessity of an experienced AI partner that can help enterprises prioritize strategic use cases and craft a suitable roadmap will be paramount as the adoption of generative AI continues to accelerate.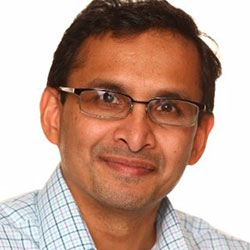 Hari is the Director of Technology Solutions at EPAM Systems. A seasoned software engineer, Mr. Hari specializes in data analytics and has worked with leading brands and government agencies to build and improve their data platforms. He has enhanced marketing, manufacturing and legacy systems analytics across various domains and is adept at aligning business goals and technical solutions.
The post How Can the Industrial Sector Implement Generative AI? appeared first on Industry Today – Leader in Manufacturing & Industry News.