By Gleb Gusev, CTO, Artec 3D
With advanced technologies like AI, VR, and 3D scanning increasingly being integrated into manufacturing, the line between the physical and virtual has never been finer, leading some to say that we are living through the Fourth Industrial Revolution. At the core of this 'Industry 4.0' overhaul is the 'Digital Twin,' a virtual copy of a part, asset, system, or process that can be used to track and improve performance. 
This article breaks down digital twinning, identifying how 3D scanning can help optimize the process, and where industry applications are driving adoption. 
Digital Twins: An Emerging Technology 
Digital Twinning is one of several emerging technologies that, when used in tandem, have the potential to change the way products are manufactured. 
Essentially, the Digital Twin concept revolves around the idea that products, machines, and even wider installations, can be turned into virtual models. Whether developed via data aggregation or captured using technologies like 3D scanning, it's important to note that these twins aren't just digital copies. In fact, they exchange data with real-life counterparts via a series of attached sensors. This data stream, which can include information ranging from an object's condition during production to machinery energy output, is quickly becoming hugely advantageous to manufacturers. 
So, in essence, that's how Digital Twins work. But where do they fit into the real world? and how can 3D scanning accelerate the process of making them? 
Creating Digital Twins with 3D Scanning 
3D scanning now represents one of the best ways to create the models behind such twins, as part of a digitization process that's often described as 'reality capture.' 
While it's possible to develop computational models that gather the data needed to carry out Digital Twin simulations, without engaging in any reality capture at all, this is a months-long workflow. 3D scanning offers a much faster means of accessing these insights. With the technology, it's possible to rapidly digitize anything from a single part up to a process chain, for instant analysis, or utilization as a basis for creating a fully integrated Digital Twin. 
Of course, there are also other reality capture technologies out there. Using photogrammetry, for instance, it's possible to create digital models by overlaying photos of an object taken from multiple angles, by devices as accessible as everyday smartphones. However, the technology is not very accurate, using it can be extremely time-consuming, and it doesn't tend to provide real-time feedback – making it more likely you'll miss scan data. 
Additionally, while 3D scanning provides linear measurements, photogrammetry is more vulnerable to distortion. This is because the technology relies so heavily on image quality, which can be impacted by anything from camera resolution to motion blur. Accuracy is a vital prerequisite for creating usable Digital Twins, and this inconsistency really detracts from photogrammetry's credentials as a twinning tool. 
By contrast, LiDAR laser scanning continues to prove a popular and highly accurate means of modeling larger structures in the surveying field. Handheld 3D scanners are also very versatile, and some feature built-in displays that allow data checks on the go. So effective are these devices, that resulting scans can be used as a basis for CAD or BIM models, and ultimately the creation of Digital Twins. 
Overall, it can therefore be said that advances in 3D scanning continue to make it a more appealing means of gaining manufacturing insights, and more generally, accelerating the process of creating Digital Twins. 
Digital Twin Applications 
Of all the areas it's applied in, Digital Twinning has gained the most traction in manufacturing, where real-time data can be used to uncover shop floor performance gains, ensure product quality via simulations, and schedule predictive maintenance to reduce downtime. Another way the process helps manufacturers manage resources is via virtual warehousing, and 3D scanning offers a perfect means of digitizing products and spares. 
Alongside the creation of Digital Twins in manufacturing facilities, laser scanners have also become a popular way of modeling in the construction space. With such long-range devices, teams can capture and create live models of large building sites, which allow project planners to interact with structures virtually. This streamlines the management of resources and stakeholder communication, while facilitating informed decision-making. 
The Future of 3D Scanning and Digital Twins 
As time goes on, more Digital Twin applications will be discovered and naturally there will be challenges to overcome, but twins are only going to become more capable as time goes on. This progress is happening in tandem with the emergence of 3D scanners that feature greater accessibility and flexibility, which are helping to broaden adoption across industries. Through the seamless partnership of 3D scanning and Digital Twins, industries are rewriting the rules of innovation, and propelling us into a future of almost limitless manufacturing possibilities.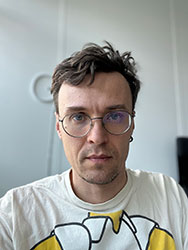 Gleb Gusev is Chief Technical Officer and co-founder of Artec 3D, and the driving force behind the development and release of Artec 3D's technologies and products. He holds more than 20 years of progressive experience in algorithm research & development, product life cycle management, software engineering, and strategy. Besides supervision of developing AI in the company's software Artec Studio, Gleb leads all R&D activities of Artec 3D with an eye toward innovation and creativity, and is responsible for the development of the company's technical strategy and standards. He also guides the team in identifying and developing Artec 3D's breakthrough solutions and bringing those solutions to the market.
Before joining Artec 3D, Gleb was the Director of Research and Development at A4Vision Inc., an international company specializing in products and solutions based on its proprietary 3D facial recognition technology. Under Gleb's leadership, well-known A4Vision products such as Vision 3Di and Vision Access SDK were designed and successfully introduced to the worldwide market. He has also contributed significantly to the development of a new facial recognition industry standard (ANSI/INCITS 385-2004 Face Recognition Format for Data Interchange).
The post How 3D Scanning Can Drive Digital Twin Adoption appeared first on Industry Today – Leader in Manufacturing & Industry News.