Reduce face mask consumption in hospitals by two-thirds through the transformation of personal protective equipment (PPE) from its current status as special waste to regular, recyclable waste.
As part of the ECOdesign research project, researchers at Il Sentiero International Campus have developed a system within the circular industrial supply chain for recycling PPE. This innovative system is designed to facilitate the reuse of masks by sterilizing them while preserving their full functionality.
"We have developed a system that sterilizes personal protective equipment, allowing it to be reused instead of being discarded after initial use. Furthermore, as the protective device begins to deteriorate, our system enables it to be disposed of as recyclable waste, no longer categorized as special," explains Cecilia Muraro, Reliability Engineer at Il Sentiero International Campus, who oversaw all stages of the research.
"These significant outcomes were achieved by opting for the use of hydrogen peroxide, a 'green' sterilizing agent that degrades into non-harmful substances," continues Cecilia Muraro. "The peroxide treatment demonstrated exceptional efficacy against both bacterial cells and resilient fungal spores, which are robust biological structures designed for prolonged survival in the environment.
The data we collected indicate a substantial capacity for reducing microbial viability in the tested mask types while preserving the functional properties of the PPE.
Among the various challenges tackled by the young researchers at Il Sentiero International Campus, one key focus was researching and identifying optimal conditions for sterilizing PPE while minimizing damage. The optimization of sterilization process parameters was achieved through dedicated laboratory testing campaigns, utilizing both chemical and biological sensors.
Following the development of the plant prototype, engineers conducted several specific tests to validate the hydrogen peroxide vapor sterilization system.
The effectiveness of the sterilization process was further assessed by introducing bacterial and fungal strains into the devices and quantifying the microbial load before and after treatment. This critical phase benefited from the expertise of Chimicambiente, a project partner.
The collected data demonstrated a significant reduction in microbial presence, confirming the efficacy of the peroxide treatment and the preservation of the functional properties of the masks.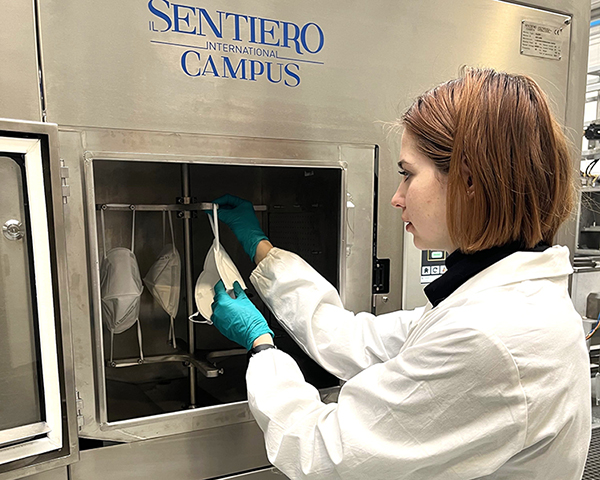 At Il Sentiero International Campus, researchers have successfully constructed a prototype plant for hydrogen peroxide vapor treatment. This innovative system has the potential to reduce face mask consumption by three to ten times, firstly by enabling reuse and subsequently by transforming personal protective equipment (PPE) from specialized waste, as it stands today, to regular, recyclable waste.
The research team meticulously managed all phases of the project, from design—supported by fluid-dynamic modeling for process simulation and system optimization—to the practical realization of the prototype sterilization systems.
The EcoDPI research project integrated specific scientific expertise and production capabilities from the entire regional territory. Collaborators included the University of Padua (Departments of Industrial Engineering, Giorgio Levi Cases Centre for the Study of Energy Economics and Technique, Neuroscience, Medicine U.O.C. of Laboratory Medicine, Technique and Management of Industrial Systems), Cà Foscari University of Venice (Departments of Molecular Sciences and Nanosystems, Environmental, Computer, and Statistical Sciences), and the University of Verona (Department of Biotechnology).
About Ecor International Group
Ecor International S.p.A. is a company operating in the mechanical engineering sector that specializes in the design, production, and assembly of manufactured products using cutting-edge production technologies.
In 2017, it established Sentiero International Campus S.r.l., an industrial research center equipped with technical and scientific expertise and state-of-the-art equipment spanning various market sectors, including automatic machines for processing, packaging, and advanced mechanics.
www.ecor-international.com                                                              https://www.ilsentierocampus.com
Aree di Business:
Aerospace
Advanced Mechanics
Aseptic Food
Pharma
Industrial Research
Competenze:
Additive Manufacturing (3D printing)
Surface Engineering
Reliability Engineering
Rapid Design and Prototyping
Joining Technologies
The post Exploring New Opportunities in Reusing and Recycling appeared first on Industry Today – Leader in Manufacturing & Industry News.