Central Wisconsin Woodwork Company (CWWC) is a growing architectural millwork and case-good company serving cities across the United States. The company specializes in high-end office construction and multi-family units with high-end finishes—quality is a major component of its success. CWWC is AWI-certified and growing its business through a customization and client-driven approach.
For a business like CWWC, where quality control meets customer service, there are many factors at play in running a successful operation. CWWC works with customers on every part of this process—from estimation, design, and engineering to project management, finishing, fabrication, and installation.
"We do everything from high-pressure laminate to high-end custom veneer," says Andre Scalcucci, Operations Manager of CWWC. "We do most of the layups in-house, so we have control over quality." With a multi-step process such as this, it helps to have design components that are easy to assemble, but do not compromise on the quality and durability CWWC needs. 
CWWC has used the Grass ZBox drawer system for many of its builds. The ZBox drawer system combines the well-known GRASS Zargen drawer sides with zinc-coated steel ball bearings. The result is a strong, durable, and reliable drawer system offering smooth, full extension, stay-close drawers, and an easy method for disconnecting and removing the drawer box.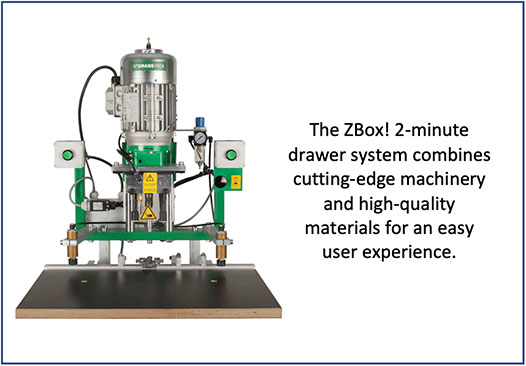 The complete ZBox drawer System features the GRASS PRO1 machine and the GRASS ZRam, a combination of machine tools that allows for quick and easy assembly in under 2 minutes. The combined strength of the ball bearing slides with steel construction offers a drawer solution that saves time and money because of its quick and easy drawer box construction.
 "We've been using the Z Box for a couple of years. One of the things that we like about it is that we can machine everything—right from our engineering software, we send it out to the machines, it gets fully machined on our flat table routers, ready to be assembled, and assembly is quick. Less than two minutes a drawer," says Scalcucci.
Scalcucci commented on how he loves the ease of training with the ZBox drawer system—which saves the company time and money through onboarding. "We can take some of our lesser-skilled employees, put them at a station with [the materials], and after a short training session we can get new employees assembling high-quality finished drawers in short order."
Another benefit of the ZBox drawer system is its ease of modification. CWWC helps its customers achieve their own unique specifications, and having flexible and functional products, like ZBox, make that job a lot easier.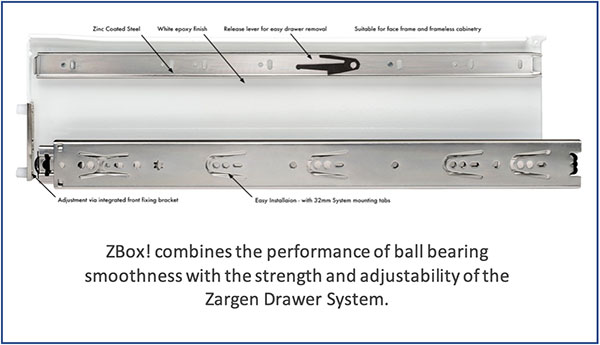 In this case, anyone at the company could have made this modification for the customer because of its ease. The flexibility, high-quality, versatility, and easy-to-assemble Grass products offer businesses cannot be understated. There is no need for specialized training, in-house or out in the field, meaning customer happiness is not dependent on higher-level employees using their time for adjustments such as these. "ZBox saves us material and labor and shortens our cycle times," says Fletcher. Saving resources during manufacturing ensures businesses have more resources to dedicate elsewhere—fostering growth while maintaining quality assurance.
About Grass America
Grass America is a quality-driven manufacturer of hinges, drawer slides, lifters, and drawer systems. The company's first-class movement systems keep America's kitchens, baths, and office facilities operating at their best. Grass America's manufacturing facility in Kernersville, North Carolina, sells functional hardware and accessories throughout the US, Canada, and Mexico via 130 distributor locations and to most of the leading kitchen cabinet manufacturers. The company is proud that its employees come from all over the world and often reach more than 30 years of experience. Choose Grass as your reliable partner in business for functional hardware. Learn more at www.grassusa.com.
The post CWWC Utilizes GRASS ZBox for Quick Drawer Assembly appeared first on Industry Today – Leader in Manufacturing & Industry News.