By Viral Patel
More women are pursuing careers in the traditionally male-dominated supply chain field and their influence is actively shaping the industry's future. While overcoming gender stereotypes and traditional male roles remains a challenge, women are breaking barriers, assuming leadership positions, and making significant contributions across various sectors of the supply chain logistics field.
There is still a long way to go
A Gartner 2022 Women in Supply Chain Survey revealed that women comprised 39 percent of the total supply chain workforce and only 19 percent of the supply chain C-suite positions. This is slightly higher than the 15 percent reported a year earlier. Global organizations, says Gartner, are more committed to improving women's representation in management positions. Unfortunately, when surveyed in early 2022, nearly 50 percent of medium to large supply chain companies (those with a maximum of $5 billion in annual revenue) reported they did not have this objective.
Some companies are taking the lead in hiring more female logistics professionals. UPS has a Women's Leadership Development Business Resource Group, which offers workshops, mentorship, and networking. Another gender diversity initiative is the award-winning Women at DHL Global Forwarding program. The initiative is described as "promoting a cultural mindset," that features a new talent management program, work arrangements, mentoring and networking. DHL is targeting a goal of 30 percent women in management roles by 2025. XPO was named one of the top companies for women to work for by the Women in Trucking Association (WIT) in 2021. FedEx has a strong base of female logistic professionals. A 2022 analysis of the shipping giant's demographics by Zippia found that 34 percent of 850,000 FedEx employees were women and 38 percent of those at the executive level were also female. Logistics giant CH Robinson states on its website that more than 48 percent of its worldwide workforce are women, with a philosophy "that embraces the unique experiences and diverse backgrounds of our people to create a stronger, more innovative, and successful team."  Gender diversity is even more critical in today's marketplace, where many organizations post-pandemic are still looking for people to fill top positions.
What women bring to the table
A supply chain organization with women in top leadership roles means there are diverse perspectives when it comes to problem-solving. Women tend to have strong communication skills, a more collaborative approach to teamwork, and an enhanced customer-centric approach. A 2019 Harvard Business Review report determined that women outscored men on 17 out of 19 key leadership capabilities, including collaboration and communication. To make an organization more welcoming to women, it is vital for upper-level management to foster a more inclusive company culture and promote gender diversity in leadership roles. Support for a work-life balance, especially for women with children, and the ability to handle many job functions remotely (or at least on a hybrid basis) are strong selling points when recruiting new talent.
The next step
There are many steps organizations can take to increase the number of women in their C-suite. They can offer female employees the training to put them on a path to management positions. Companies can strive to ensure that pay and benefits are comparable to those given to male counterparts. New hires can be offered opportunities to network with female role models in upper-level positions. Overcoming gender barriers may be more difficult for traditional male-dominated supply chain organizations. As such, doing so will require a comprehensive examination of policies and company culture. Organizations can emulate supply chain heavyweights like AGT Global Logistics, Johnson & Johnson, and GEODIS, which already have many women in leadership roles.
Everybody in the (talent) pool
These days, supply chain and logistics jobs are far more than the stereotype of lugging heavy boxes around a warehouse and loading them onto a truck. Today's logistics industry revolves around robotics, warehouse digitization, smart conveyor lines, and the technologies that make it happen. As the logistics industry evolves, it opens the field to more women.
Companies that realize the unique perspectives women can bring to the industry will find it easier to fill the employee pipeline if they are willing to embrace a more diverse workforce and foster an environment of work-life balance. These more progressive organizations will then discover a new pool of viable talent to strengthen and grow their businesses. With proper mentoring and company initiatives focused on diversity and inclusion, more employers will hire the best person for the job, regardless of gender.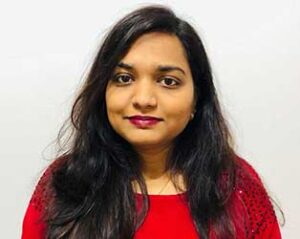 About the Author:
Viral Patel is a senior logistics analyst with East West Hauling, Inc., a women-run logistics organization. She has more than 15 years of hands-on experience in the areas of logistics and supply chain operations management. During her career, Viral has demonstrated a unique ability to analyze an organization's management procedures, identify deficiencies and potential opportunities, and develop operational solutions to increase reliability and improve productivity. She has a master's degree in technology management, specialized in global project and program management, from the University of Bridgeport. She also earned a bachelor's degree in management studies from the University of Mumbai. For more information, contact East West Hauling, Inc.
The post Breaking through Barriers: Women in Logistics appeared first on Industry Today – Leader in Manufacturing & Industry News.