The global B2B e-commerce market is expected to reach $18T by 2023. The march of e-commerce, which first took hold in B2C, is rapidly expanding into every industry, including B2B. The consumer packaged goods (CPG) industry, is no exception.
The challenge of being everywhere all at once
Scale is the key to success in the CPG industry. Traditionally, scaling a CPG brand has meant hiring lots of sales reps to go far and wide, opening accounts with as many retailers as possible. While it has never been tremendously efficient, it has only gotten more difficult in recent years. From skyrocketing gas prices and wage expectations to an ongoing labor shortage, CPG companies are finding it difficult to support this model of business growth.
Unfortunately for CPG companies, the work doesn't stop once the accounts are opened. Under the current model, sales reps have to keep visiting stores to collect orders. With limited time, they're forced to decide between visiting existing customers or try to open new accounts. Even big CPG brands with deep market penetration are struggling. Often, they don't have the manpower to visit their existing accounts, resulting in lower sales and customer churn.  
Sales reps are blocking e-commerce
E-commerce seems like the obvious answer to creating an economy of scale in CPG. E-commerce alleviates the pressure of being everywhere all at once by allowing consumers to place orders without needing a field rep to come to their store. So why aren't CPG companies being quicker to adopt e-commerce? Sales reps aren't sold – to put it lightly.
Common knowledge teaches us, "Don't bite the hand that feeds you." And when it comes to growing a CPG business, sales reps have traditionally been the hand that feeds business growth. Operating directly with customers, sales reps are the glue of customer relationships and the hinge that opens doors for new businesses.
As a result, many CPG companies find themselves between a rock and a hard place. On the one hand, customers are making clear their preferences for self-service buying options. On the other hand, sales reps feel threatened by e-commerce as it could take away their income. To move forward, CPG companies must find ways of adopting e-commerce that satisfies both their customers and sales reps.
Convincing sales reps that e-commerce is a friend and not a foe
CPG sales reps are compensated, at least in part, based on hitting their quotas. Critically, these quotas are usually based on sales, not opening new accounts. Therefore, if a sales rep opened an account with a new customer, and then used the CPG company's e-commerce solution for all their recurring orders, the company is left with a conundrum. Do they count these e-commerce sales toward the sales rep's quota? On the one hand, the sales rep did the hard work of opening the account. On the other hand, they might be doing significantly less work with an e-commerce customer than with another customer who is still ordering in person.
Tempting as it could be a CPG company not to count these e-commerce transactions and potentially pay out less in commission, this is the wrong move. That is if you don't want your sales reps to revolt. When companies take this approach, e-commerce is immediately set up as the villain that is working against the sales reps.
Instead, at least for the first year, companies should count 100% of e-commerce transactions toward the sales rep's quota who opened the account. In addition to keeping your sales reps happy, this has the added bonus of keeping customer retention a primary concern of your sales reps. In fact, by spending less time doing the manual work of order taking, sales reps can focus on being a relationship manager and doing value-added tasks like shelf auditing, pushing promotions, and identifying upsell opportunities.
After a customer's first year, things can get a little trickier. Some companies will keep counting 100% of the transactions toward the sales rep's quota who opened the account. Others will decrease the percentage to incentivize sales reps to open new accounts. If CPG were to take a page out of the SaaS playbook, we could see CPG companies offering 10% commission on new sales and 2% commission on residual sales.
The future of CPG sales
Navigating relationships with sales reps while adopting e-commerce remains difficult. But companies must not back down from the difficulty. There's no turning back the clock to reverse the Amazon Effect and put the genie of e-commerce back in the bottle. E-commerce has become the norm for B2C, and increasingly, e-commerce is an expectation of B2B buyers as well. While the challenges facing CPG companies that implement are real, the opportunities are even greater. With sales reps on board, CPG companies can enter a new era of sales that delights customers with easy buying processes and increases margins through decreased human capital.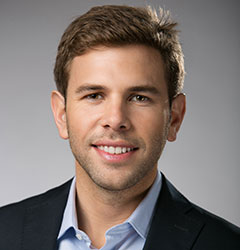 Matan Holander serves as the CEO at Mobisoft, the company behind Mobisale – a commerce platform for field sales and distribution of consumer goods. Matan has over 15 years of experience in technology for the consumer goods vertical. Matan holds bachelor's degrees in both Business and Law from Reichman University.
The post Adopting e-Commerce Without Your Sales Reps Revolting appeared first on Industry Today – Leader in Manufacturing & Industry News.